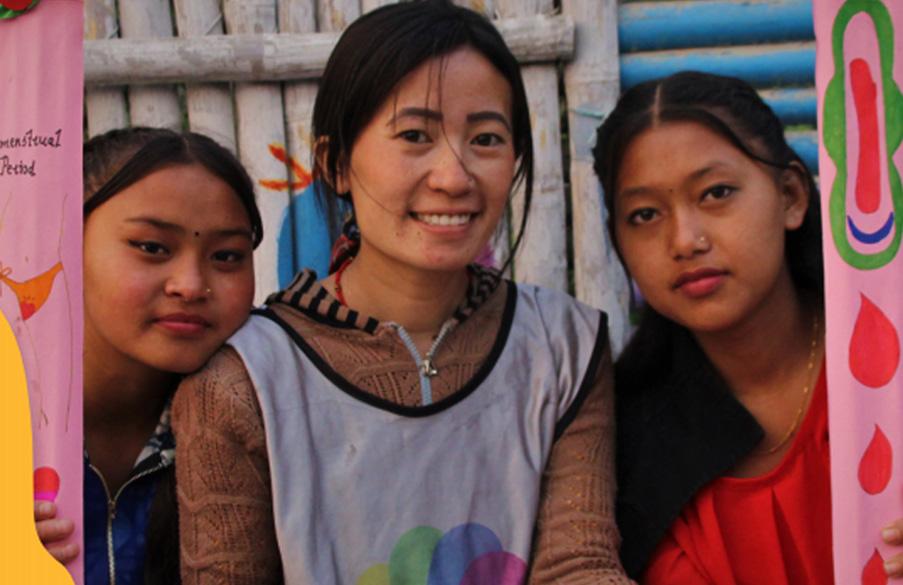 Child Protection Introduction
Child protection and gender equality are very important work aspect of Rainbow Volunteer Club. Since our establishment, all projects have focused on children, and injected the perspective of gender equality into the project process, and continued to develop and formulate policies on child protection and gender equality.
The work and institutional mechanisms have also achieved the positive results, and child protection, girl child protection, gender discrimination, and improper behavior have been regarded as important working mechanisms and strategic directions of our organization. Committed to protecting children from sexual assault, sexual harassment, school violence and other injuries; we provide training to social workers, volunteers, teachers of community schools popularizing girl child protection education, and distributing "Girl Child Protection Plan" leaflets and sexual assault handbooks in schools and communities to promote children protection awareness and eradicate gender related descrimination.
01
No hunger


02
The Bling


03
The Good Night Story


No Hunger is the project Rainbow Volunteer Club (RVC.NP) initiated in April 2020. In April 2020, the spread of the new coronavirus epidemic has caused the tourism industry, which was one of the local pillar industries in Kathmandu, to be severely impacted and challenged. As a result, the local economy has suffered a severe downturn, and people's daily needs for food and hygiene products were in short supply.
The increase in the number of unemployed people, the increase in the number of homeless people on the streets, the insufficiency of food supply, the aggravation of malnutrition and poverty have led to long-term malnutrition and other health problems for women and children in marginalized groups facing the most severe living conditions.
By supplying clean and nutritious meals every day, we ensure the daily intake of food and nutrition during the epidemic, and provide children with a minimum survival guarantee. And carry out child protection work in many slums in Kathmandu, Nepal, and make efforts in terms of food supply, healthy drinking water, health and hygiene education, and try to reduce the threat to children caused by hunger, harsh environment and disease, and ensure the minimal safety of children.
The Bling Project is a public welfare activity launched by the Rainbow Volunteer Club (RVC) in June 2018, which is dedicated to the growth and companionship of girls in remote areas.
Nepal has one of the highest rates of child marriage in the world. In Nepal, more than one-third of women (38.4%) were married before the age of 18, compared with 13.8% of men, according to 2020 data (CBS.2020).
Studies have shown a clear correlation between marriage and education. Girls who are not in school are at a higher risk of early marriage, and girls who are in school are less likely to marry early.
Since 2018, Rainbow Volunteer Club (RVC) has started to carry out public welfare projects to empower girls in Nepal. The project mainly provides adolescent girls' protection courses for Nepalese girls, so as to improve girls' self-awareness, enhance their awareness of gender equality, improve their awareness of gender equality and widen their self-protection ability.
In this project, Rainbow Volunteer Club (RVC) cooperates with schools and communities to popularize adolescence education for adolescent girls, set up a girls committee, and train volunteers to carry out adolescence education for girls. Achieving gender equality and empowering girls helps every child reach their potential.
The Good Night Story is one of the most important projects of the Rainbow Volunteer Club (RVC) in the Children's Accompanying Plan. The project is mainly aimed at disadvantaged children, or children in rural schools, who have many problems due to lack of parental companionship and other reasons.
Unsatisfactory academic performance, truancy, dropout, lack of education and supervision due to intergenerational care, escrow or unsupported care children are more likely to develop psychological loneliness, self-indulgence than other children of the same age. Closeness, inferiority, indifference, introversion and other emotions or characters are more prone to deviations in emotion, personality and behavior. It directly leads to poor sleep in children, nightmares, bed-wetting, lack of concentration and other phenomena occur from time to time.
Because of such problems, we take children's social-emotional learning SEL as the theoretical basis, use sound as a tool, and use 10-15 minutes of good night stories before they go to sleep every night.
Before time, choose stories that can be well expressed and valued in terms of self-discipline, self-confidence, independence, empathy, responsibility, emotional management, interpersonal communication, etc., and organize RVC volunteers and teams to record warm good night stories for children , through the exclusive good night story machine, let children fall asleep in a relaxed and happy atmosphere, and at the same time can gain knowledge, broaden their horizons, cultivate character and habits, and most importantly, obtain psychological and emotional companionship.