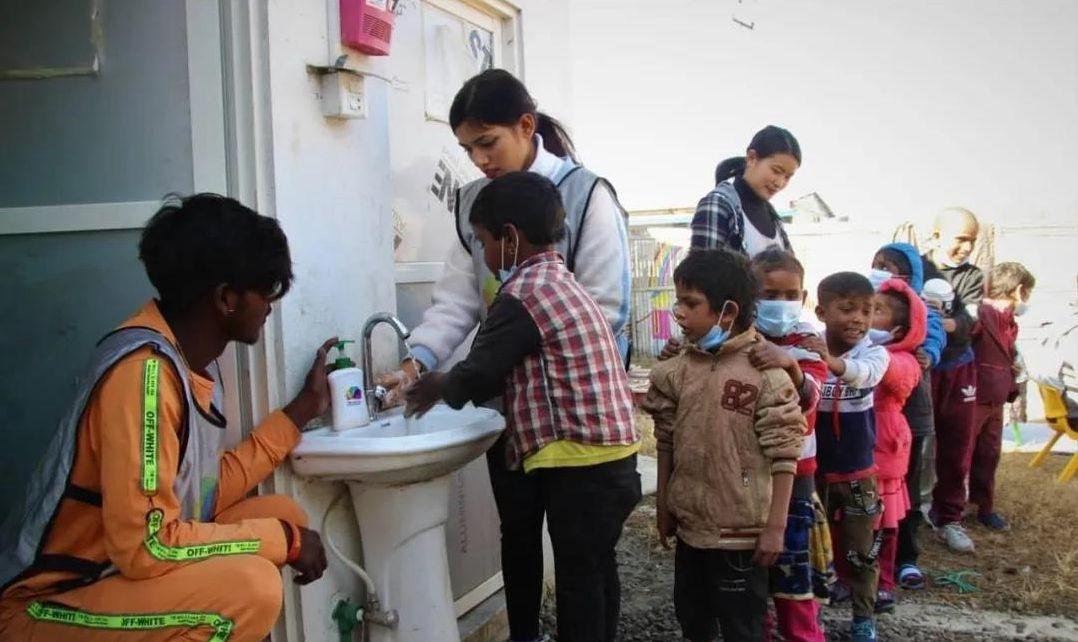 Rural Education and Development
The key to education is to ensure that all children have equitable access to quality educational resources. Educational exploration is one of the very important work directions of Rainbow Volunteer Club. Since 2015, in the remote mountainous areas of Sindupalchok, Pokhara, and Sainamaina, Nepal, compared with cities in terms of access to education, educational resources and quality there is still a big gap.
Rainbow Public Welfare Society and local communities and schools have improved the educational environment, provided software and hardware support for multimedia classrooms, teaching aids, provided teaching aids and school supplies for children, and sent staff and volunteers to provide teaching support. Teaching content is provided in sports, film, language, etc.
In 2017, we cooperated with the local government and community of Kageshwori Manohara in Kathmandu, Nepal, to establish and operate a "Rainbow School" to provide teaching venues, facilities, and curriculum support for children from low-income families and migrant children in the surrounding areas, and to promote children's health, arts, education, language, motor, cognitive and socio-emotional healthy growth.
01
Rainbow Sense


02
Rainbow School


03
Rainbow-SCHOOLMATE


Every child should have the right to development, but children living in remote mountainous areas and slums in Nepal have fewer opportunities to access to education, and some children drop out of school voluntarily or passively. Children who drop out of school become neglected, marginalized and socially excluded. Children who drop out of school are more difficult to engage in skilled jobs due to their early entry into society; at the same time, due to lack of learning and education, their ideas and concepts are outdated; in addition, without school safety management, some children (especially girls) are more likely to suffer abuse, child marriage, and child labor and unequal treatment.
There are many reasons for dropping out of school, among which family poverty and lack of educational resources are the important reasons for the high dropout rate of children in basic education. In addition, in the mountainous area of Nepal, due to imperfect infrastructure, children travel long distances to school and may encounter some potential dangers, such as crossing rivers without bridges, and narrow mountain roads with cliffs beside them. Parents do not let their children go to school because they are worried about the safety of their children on the way to school. Based on this basic situation Rainbow Volunteer Club (RVC), started to carry out the Nepalese Children's Schooling Plan in 2015. The project aims to give special attention and support to children who may be at risk of dropping out of school, understand the reasons in depth, and formulate strategies to solve the problem.
Rainbow Volunteer Club (RVC) also realizes that solving the problem of children dropping out of school cannot be achieved overnight. Therefore, while helping children drop out of school to return to school, it also cooperates with local communities and schools to improve the lack of resources in the local educational environment, so as to promote local education. sustainable development. Specific project measures include providing software and hardware support and teaching tools for multimedia classrooms; providing teaching materials and school supplies for children; dispatching staff and volunteers to provide teaching support; providing teaching content in art, sports, film, language, etc. Ultimately support the sustainable development of children's education in Nepal.
Kathmandu Rainbow School Nepal
All children have the right to development.
In Nepal, due to the relative lack and imbalance of educational resources, children in most communities have few opportunities to participate in extracurricular activities, such as games, debates, drama, art and other activities. Fees for interest classes and extracurricular activities need to be paid extra, which is difficult for families with poor financial conditions to bear. In families with low economic income, the types of work that parents are engaged in lack technical skills and mainly rely on physical strength, which makes many children unable to get care and accompany because of busy work of parents.
Some children came to Kathmandu from the mountains with their parents. Their parents' job is mainly to carry bricks in a brick factory. The work cycle is generally from October to March. Parents do not send their children to school due to the erratic time in Kathmandu. In addition, there are many slums in Kathmandu and families in slum cannot afford the rent, and use tarpaulins to build temporary shelters to live in. Some children will go to the streets to sell water and other subsidies for their families.
Rainbow Volunteer Club in December 2017 conducted a survey of community schools of Bhotekoshi Rural Municipality, Sindhupalchok district. During the survey, it was found that most of the community school students of Bhotekoshi Rural Municipality of Sindhupalchok district had no appropriate and adequate notebooks in their school bags. According to school teachers, children of 6-14 age groups leave school every year because these students have to face problems to acquire school materials required to get education and in most of the families the voice of the younger children are often unheard.
In most of the rural school's pre-primary classes in Nepal, learning materials and toys are scarce and quality of stationary is extremely poor. Children in schools have very limited resources and often their bags have no basic needs for the school. In Nepal to join the school for most of the rural children is common, and continual school study is always uncertain. The situation of children in Nepal shows that they have been exploited as a practice of our society. It is often common that schools have no measure to fulfill needs of students like stationeries even for students of kindergarten or children from poor and marginalized families.